Products and Services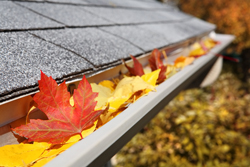 Eave It to Me Eavestroughing serves Saskatoon and surrounding areas with reliable, efficient eavestroughing to properly clear up your clogged gutters or to install new technology to prevent mishaps. We also have prevention methods to prevent leaves and other harmful materials from constantly getting stuck. Our eavestroughing is second to none with a wide range of gutter guard products and services to assist with those frustrating issues.
Aluminum Eavestroughs
Aluminum eavestroughs are seamless gutters that maximize protection from harsh weather. The durable aluminum adds years to your eavestroughing, making sure your gutters are always clear of leaves, sludge, and other debris.
Steel Eavestroughs
Steel is another strong eavestroughing material that ensures you will have gutters that are much longer lasting than typical products. We offer only the best options for steel eavestroughs with installation and repair services available.
Aluminum Soffit and Fascia
Soffit and fascia boards are important to better allow the flow of air onto your roof, and aluminum boards provide maximum durability. Working together, they keep harmful condensation away to ensure timber decay doesn't occur. Fascia are mounted where the roof meets the walls of your house; it carries the gutter. The soffit board is located underneath the fascia board, and it does most of the ventilation work. Eave It to Me installs and replaces soffit and fascia boards.
Vinyl Siding
Vinyl siding is known for its durability and aesthetics. Eave It to Me provides a range of styles, finishes, and colours to fit the exterior of your home.
Alu-Rex Leafguard System
Alu-Rex carries clog-free leafguard systems to keep your gutters clear of leaves and other debris. These products are reliable and very durable, trusted amongst the Eave It to Me team. Alu-Rex carries T-Rex and Gutter Clean options for existing eavestrough replacements or new installations.
James Hardie Siding
James Hardie is one of Eave It to Me's trusted suppliers. Hardie manufactures siding, backerboard, wallboard, and gypsum. These products are not only weatherproof, but look great on your home's exterior – there are plenty of colours and materials to choose from.
New Home Construction and Renovations
Eave It to Me assists with new home construction and renovations, providing the Saskatoon area with only the highest quality of eavestroughing and other products. Water and other material damage can be costly in the long run, which makes immediate installation or upgrading crucial in making sure you won't have to pay the high price of largescale eavestrough fixes later.
Eavestrough and Downspout Repairs
Contact Eave It to Me for small repairs on your eavestroughs or downspouts. These should be taken care of right away to ensure there is no further damage to your home. Our experienced, professional construction workers are equipped with the tools and knowledge to repair these important
Cladding
Eave It to Me Eavestroughing provides cladding for garage doors, windows, and both residential and commercial doors. This includes both aluminum and wood cladding. Wood garage door cladding and its overlay are molded from actual wood pieces to reproduce the natural texture. Composite cladding is made with clear cypress, mahogany, and pecky cypress. Our window cladding is made with aluminum, fiberglass, and vinyl or PVC, enabling the window to become more moisture and weather resistant. Door cladding is also made with aluminum and often found in commercial doorways including retail locations, office buildings, and more. It can also be applied to residential buildings to create a custom, energy efficient architectural style. Contact us to learn more about how our cladding can save you money on your energy bills and add distinctive style to your home or commercial building.